Clinic specializing in cancer treatment and infectious disease prevention with gene technology
Preventing Infectious Disease
Not only can DNA vaccines prevent cancer, they are also effective in controlling infectious disease
We have been applying HIC Clinic's vaccine technology to gene therapy in the development of new vaccines for the prevention of various infectious diseases caused by viruses or other pathogens.

Our DNA vaccines for infection prevention comprise viral DNA molecules encapsulated by liposomes (tiny artificial sacs or vesicles created from phospholipids, the major component of cell membranes). When administered as nasal drops, these liposomes are directly taken up by the nasal mucous membranes to enhance immunity against pathogens such as viruses.

Now that the genome of the novel coronavirus has been mapped and made publicly available, we have leveraged this information to successfully develop a DNA vaccine against the virus.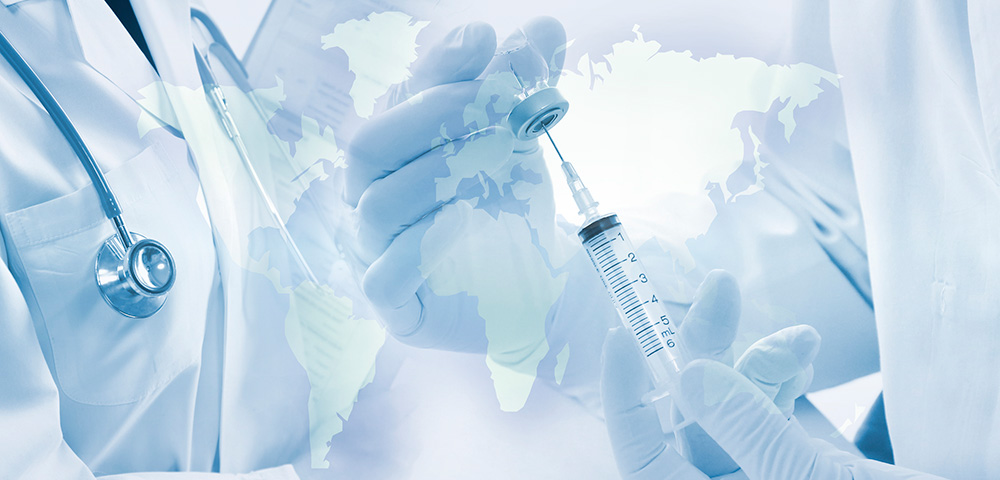 DNA Vaccines as a Tool to Prevent Infectious Disease
With conventional vaccines, live, attenuated forms of a target virus are directly injected into the body as a means to induce corresponding antibodies against the virus. HIC Clinic's COVID-19 DNA vaccine; however, is not a conventional vaccine and offers the following advantages:

・Free from protein components, minimizing risk of allergic or other adverse reactions
・Administered as nasal drops for uptake via the mucous membranes (rather than injection into the bloodstream), thereby inducing the secretion of antibodies at mucosal surfaces
・Encapsulated within liposomes, enabling the safe delivery of a large amount of active substance into the body
・Developed by Dr. Hirahata, director of HIC Clinic—creator of DNA vaccines for cancer prevention and treatment—and already administered to more than 1,000 patients over the past 12 years with no reports of adverse events to date

※HIC Clinic's COVID-19 DNA vaccines have not yet been approved for use in Japan.
DNA Vaccines vs Conventional Vaccines
What to Expect after Receiving the HIC Clinic COVID-19 DNA Vaccine
Following the absorption of nasal drops via the mucous membranes, the vaccine releases antigen molecules within the body—stimulating the production of immune cells specific to the virus, which in turn induce the expression of antiviral antibodies at approximately one week following DNA vaccine administration. Similar to those induced by conventional vaccines, the antibodies induced by DNA vaccine then remain in the body for approximately three to six months.

The stated aim of injectable systemic vaccines, such as those for influenza, is to prevent viral infection, but the primary purpose is to reduce the number of people requiring hospital treatment by lessening severe flu symptoms in those who become infected. Nasal vaccines, on the other hand, induce the secretion of antibodies at mucosal surfaces (such as those of the nose, pharynx, respiratory tract, and esophagus) and are better suited to preventing viral infection at the site of entry.

※The price of administering the HIC Clinic COVID-19 DNA vaccine begins at approximately \550,000 (tax included)
※HIC Clinic also offers COVID-19 PCR and antibody testing services
※HIC Clinic can also issue various certificates on request (including certificates written in English)